1Breadcrumb
>
News
>
News
>
Enhancing Safety Culture in the Construction Industry through Digital Transformation
Enhancing Safety Culture in the Construction Industry through Digital Transformation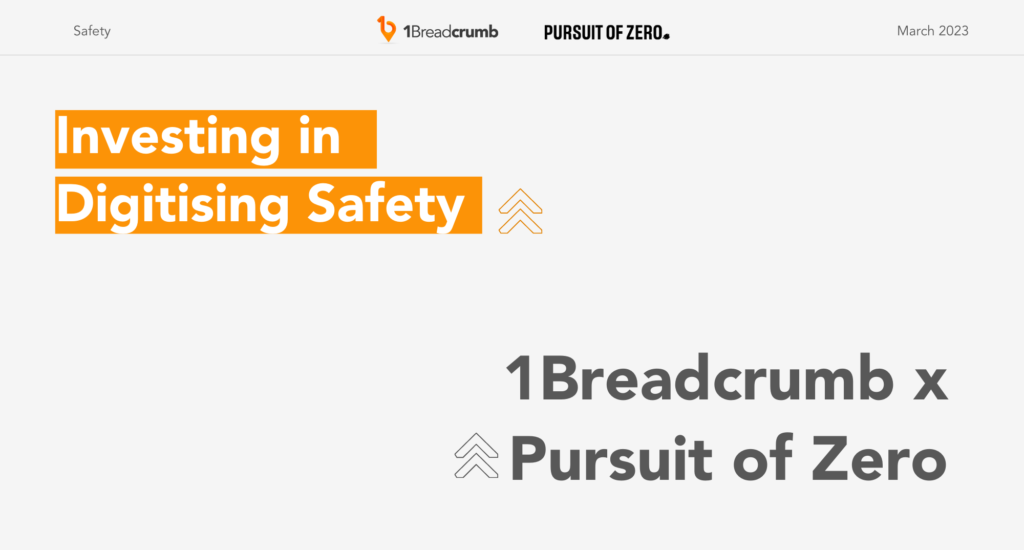 We had the opportunity to sit down with Brad Mitchell, Founder and Director of safety consultancy firm Pursuit of Zero, to explore the ways digital transformations can revolutionise safety culture in the construction industry. With a background in plumbing and firsthand experience witnessing the benefits of a safe working environment, Brad's passion for safety has driven him to establish Pursuit of Zero, a safety consulting firm dedicated to fostering strong safety cultures across businesses of all sizes.
Digital Transformation in the Construction Industry
The construction industry has long relied on traditional, paper-based processes. However, the need for greater efficiency and cost-effectiveness, coupled with technological advancements, has made embracing digital transformation crucial. By adopting digital solutions, construction companies can streamline procedures such as SWMS (Safe Work Method Statements) creation and storage, leading to improved efficiency, safety outcomes, productivity, and adherence to project timelines and budgets.
Enhancing Safety Performance, Efficiency, and Productivity
Digital transformation in the construction industry holds immense potential for enhancing safety outcomes, as well as overall efficiency and productivity. Utilising technology allows for better management of projects, reducing the time and effort required to meet high standards of safety. With digital tools like 1Breadcrumb, access to SWMS is no longer limited to site offices; workers involved in high-risk tasks can now easily access and review their SWMS, promoting a safer work environment.
Fostering a Culture of Safety
Investing in digital safety systems not only improves safety outcomes but also has a profound impact on a company's culture. Brad's personal experience with unsafe worksites has fuelled his commitment to safety. By integrating safety as an integral part of business operations, companies can instill the belief that safety is not a hindrance or a mere compliance requirement but a vital component of high-functioning businesses.
Improved Safety and Quality Control
Digital transformation offers construction companies the opportunity to enhance safety and quality control practices. Traditional paper systems are resource-intensive and lack the visibility that digital systems provide. For example, platforms like 1Breadcrumb enable builders to track who is on-site, their SWMS and permits, and their duration of stay. Such insights empower industry professionals to identify gaps and make informed decisions, fostering safer and higher-quality construction practices.
Cost Considerations
Despite the current challenging times faced by the construction industry, investing in safety is crucial. Safety should be viewed as an investment rather than an additional expense. A robust safety system and culture are essential for delivering projects on time, maintaining high quality standards, and attracting and retaining top talent. A-grade professionals are drawn to A-grade companies that prioritise safety, making it an essential aspect of any construction business.
Final Thoughts
Digital transformation is no longer a choice but a necessity for construction companies. Those who fail to embrace it risk falling behind their competitors. By leveraging technology, construction firms can significantly improve efficiency, productivity, safety, quality control, and cost management, leading to successful projects and satisfied customers.
Get in touch with us at 1Breadcrumb or Brad at https://pursuitofzero.com.au/