COVID-19 Compliance Management for Construction Sites
Automate critical COVID-19 compliance workflows with the 1Breadcrumb mobile and web app
Collect Vaccination Certificates
Request COVID-19 vaccination status at site check-in
Request upload proof of COVID-19 vaccination certificate
Documents only required to uploaded ONCE to attend all your sites
Screen non-compliant workers from entering site
Monitor and audit site attendees in real-time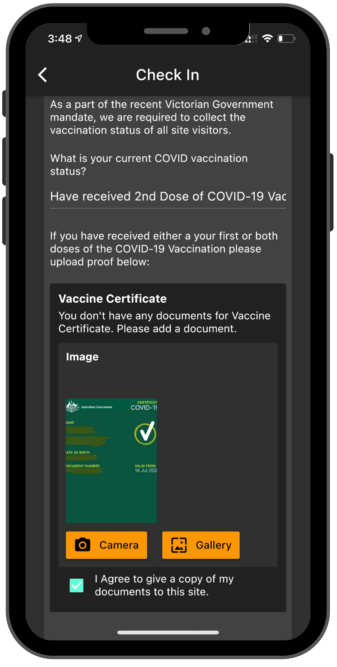 Comply with New COVID-19 Regulations for Construction Sites
Set maximum site capacity limits
Create customised screening questions at site check-in
Automatically capture site attendance records
Get visibility of compliance across all your sites
Check-in from own device (kiosk-free)
Geofence-enabled allowing check-in from anywhere on site
Prompt site visitors with custom questions at check-in
Customise check-in requirements for different visitor types
Pre-check-in and QR code options available
Communicate with Site Attendees
Convey critical messages to all on site or individual workers at any time
Virtual toolbox talk for late site entrees
Ring emergency alarm to alert all on site in one click
Notify workers of critical safety information at site check-in
Empower workers to report safety issues on site
Keep Personal Information Secure
Fully encrypted for protection of personal information
Designate viewing permissions to individual employees
Certificate requested from workers once only
Download the Information Sheet
Streamline COVID-19 management using the 1Breadcrumb mobile and web app
Download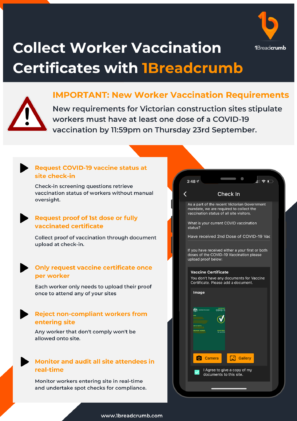 See how it works
Book a demo with our customer success team
1Breadcrumb works to ensure a safe, efficient and compliant worksite, through a mobile first solution that is built for the trades. 1Breadcrumb digitises paper-based processes to ensure simplistic compliance and safety.
Start Protecting Your Business, Staff, And Contractors Today - Simply Select The Best Option For Your Site And Get Hassle Free Contractor & Site Management
How Do You Get Started? Easy Site Set Up In Under 5 Minutes!
Set up your site, and get access to simple visitor management in less than 5 minutes!
Select the Best Option for Your Business Needs:

Choose your pricing packages based on how many check-ins you anticipate a day. Our software can scale and grow as you do!

Quickly and Easily Set Up Sites:

Log in to your unique business dashboard and set up your first site, as well as any check-in questions and announcements. You'll have access to our full academy videos making set up straightforward, user-friendly and hassle-free.

Start Using Your Geofence and Your Site's Unique QR Code:

From here, you're now ready to safely and securely start recording and reporting on who is on your site and when!